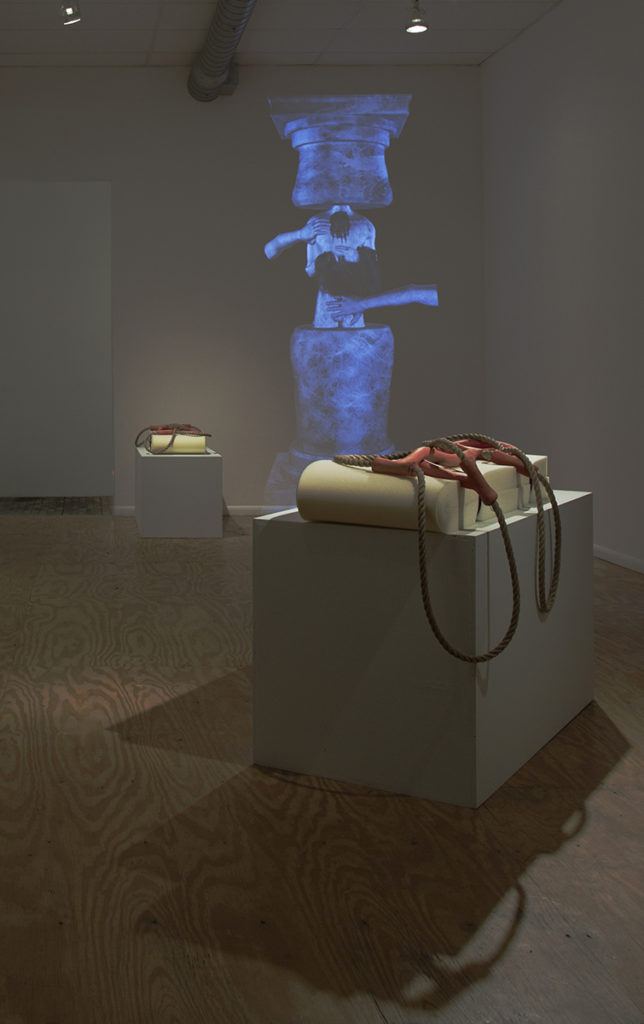 INSTALLATION PHOTO: Open Fracture: Catalina Ouyang and Benjamin Rosenthal  
© Benjamin Rosenthal 2017
In Not Touching // 2017-Present
The work that makes up In Not Touching includes work in drawing, video installation, and sculpture, and include pieces exhibited at Open Fracture: Catalina Ouyang and Benjamin Rosenthal and Against the Screen. The body of work looks towards the evolving nature of queer sexuality—mediated through technology—as site for theorizing a new kind of queer "technosexuality" and gaze. Challenging the supremacy of human body-to-body contact by exploring the role that a hybrid human-object-virtual encounter might pose for alternative forms of intimacy and contact, this multidisciplinary visual art project speaks directly to important and contemporary conversations around the dissolution of queer spaces, the role emerging and existing technology plays in redefining our queer interactions, and how the changing nature of human identity in relation to technology has unique ramifications for LGBTQIA+ communities.
Objects like amidst the freshness of flesh on the edge of the divine, twice pressed and two strangers meet in a leather bar, notwithstanding (both 2017), suggest contact, fetish, the body and sensual violence without explicit images or directives. Whereas Of Techno-Gods and Sentient Signals #1 and Of Techno-Gods and Sentient Signals #2 both use explicit acts of touching in their treatment of idealized and fragmented virtual bodies—becoming sites to explore encounters power, violation and desire.
Open Fracture: Catalina Ouyang and Benjamin Rosenthal
of spectral glances [in] and [of] prophetic tremors, [not touching] 
five channel Video Installation with 3D Animation, Analog Monitors, HD Monitors, HD Projection, objects (unfired clay, acquaresin, nylon, polyurethane rope, foam, latex, ratchet straps), and sound // dimensions variable // 2017
In of spectral glances [in] and [of] prophetic tremors, [not touching] (2017, five channel video installation), virtual erotic situations ignore the role of genitalia in favor of metaphors of penetration via USB ports implanted in skins of body-like forms. On a large screen a finger slowly strokes the boundaries of a skin-like, modernist structure to the sounds of technologically mediated breather—interrupted by overwhelming moments of color, body, and sound with recited text-to-speech messages from explicit queer sexting encounters.  Adjacent to this screen, the body of the artist is probed and scanned by a dental camera which produces sound in relationship to the proximity of the body. Signs and symbols are extracted from this activity that reference the interruptions happening elsewhere in the work. Also adjacent, and on the floor, a monitor complete with suggestive objects showcases a seductive virtual object, like the one resting atop the screen, coated in glistening video images. Immediately behind the viewer and opposite the large screen are two analog monitors synchronized in competition with each other—one playing fragments of a modified version of Ginuine's "Pony," the other a version of Ludacris' "What's your fantasy?"
The interplay in space and time between subtle erotic acts, suggestive touching, and the reference to the body performs in conjunction with the viewers' bodies. Subjected to these multitude of signals and inputs across the sensory spectrum, their physical bodies become unwitting participants—penetrated by the intensity of the action, sound and images of the installation.
In addition to the installation, an internet-based artwork was produced for The Wrong: New Digital Biennial. Prosthetic Pavillion and can be accessed here (not mobile friendly): ofspectralglanc.es