Bunkers
2010
This series of work extends across a variety of platforms including sculpture, video and drawing. The work centers around the object Bunker, a ramshackle set/performance space constructed of hand-made bricks made of drywall and masking tape. The Bunker becomes site for exploring intense and/or spontaneous psychological acts of control (or the illusion of control) within the larger confines of the studio. Performances within the Bunker are videotaped via a ceiling camera, processed, and manipulated in the four channel video installation Bunker Actions. Additionally some of this material is later incorporated into a later work Administrative Maximum: Towards the End of the Broadcast [2011-2012]. Drawings also serve as an important reference point working back and forth between the hand in the studio and the actions in the Bunker, finding points of intersection in the manipulation of the footage, the incorporation of additional footage and the manipulation of the body.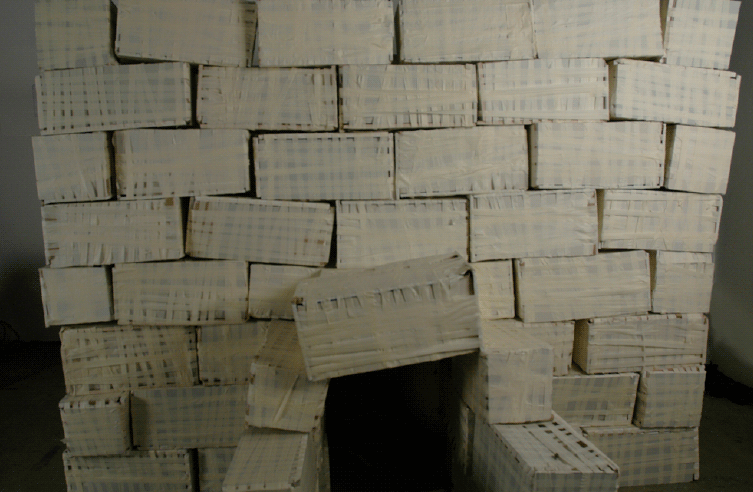 Bunker // Drywall, Masking Tape // 96″ X 66″ X 72″ // 2010
Bunker Actions
Four Channel Video Installation // dimensions variable // 2010
---
Bunker Actions incorporates footage from studio performances in the Bunker that explores psychological control, the establishment/breakdown of the boundaries of the body, and the implied mortality of the image. Drawn boundaries within the confines of the bunker space and the body of the performer become sites of intense concentration and erasure. A performance illuminated and perpetuated via a photo-strobe bears resemblance to the ricochet of a machine gun—the image only perceptible by the violence of the mechanism. Voids emerge within the boundaries on the body and in the space, becoming portals between the corporeality of the performance image and the endless abyss of video black.
VOIDS
This series of drawings explores the creation of voids or non-spaces that develop into dimensional objects and change shape in space and time. Working back and forth between these drawings and related bunker performance actions, the shapes and forms of the drawings are pulled from and/or are inserted into the performance (more specifically, become placed on the body).